Workplace Essential Skills Math DVD with Workbook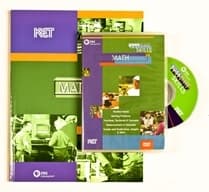 Shipping only available in the United States.


This workbook and DVD set addresses math skills commonly used in life and work.
Description
KET's Workplace Essential Skills Math series includes five half-hour programs on one DVD with a companion workbook.
The five programs and workbook content will help develop foundational math skills useful in everyday life and work scenarios.
Watch the videos and complete the workbook to learn more about:
Number Sense
Solving Problems
Fractions, Decimals and Percents
Measurements and Formulas
Trends and Predictions: Graphs and Data