Workplace Essential Skills Employment DVDs with Workbook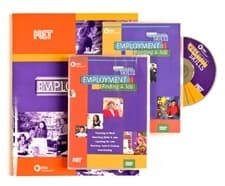 Shipping only available in the United States.


DVD with workbook teaches skills needed to find and keep a job.
Description
KET's Workplace Essentials Skills Employment series includes eight half-hour programs on two DVDs with a companion workbook.
Find out from personnel directors and hiring managers what makes them invite someone in for an interview, what they're really looking for in a new hire, and how to succeed on the job.
The eight programs and workbook chapters will guide you toward finding - and keeping - a good job.
Watch the videos complete the workbook to learn more about:
Planning to Work
Matching Skills and Jobs
Applying for Jobs
Resumes, Tests and Choices
Interviewing
Ready for Work
Workplace Safety
Learning at Work