Workplace Essential Skills Communication & Writing DVD with Workbook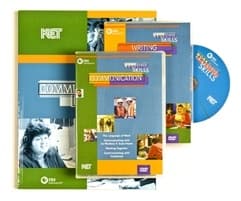 Shipping only available in the United States.


DVDs along with workbook teach skills needed to understand the language of work and to communicate with co-workers, supervisors and customers.
Description
KET's Workplace Essentials Skills Employment series includes seven half-hour programs on two DVDs with a companion workbook.
Watch DVD programs as employees interact in work environments. Learn how to express ideas, understand nonverbal cues, prevent and solve problems through verbal communication and writing -- skills needed to succeed on the job. Test knowledge and practice skills in the companion workbook.
The seven programs and workbook chapters will guide you toward improving communication and writing skills for work.
Watch the videos complete the workbook to learn more about:
The Language of Work
Communicating with Co-Workers and Supervisors
Working Together
Communicating with Customers
A Process for Writing
Supplying Information: Directions, Forms and Charts
Writing Memo and Letters