Spanish Scoreboost for the GED Test - pack of 8 workbooks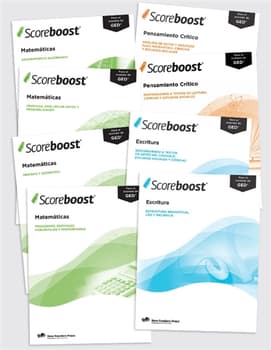 Notice: New Readers Press is experiencing a temporary delay in shipping. Expect normal operation to resume the week of October 31st, 2022.

Shipping only available in the United States.


Available now in Spanish.
These 48 page consumable workbooks contain 11-16 targeted strategies per book. Each book includes answers, explanations, self-evaluation, and action plan. Sample GED
®
test questions model the thinking process needed to approach the GED
®
test item types. The test-wise feature throughout the workbooks offers test-taking tips and strategies.
Workbook topics include:
Escritura: Estructura gramatical, uso y mec'nica
Escritura: Respondiendo a textos en artes del lenguaje, estudios sociales y ciencias
Matem'tica: Fracciones, decimales, porcentajes y proporciones
Matem'tica: Medidas y geometr'a
Matem'tica: Gr'ficos, an'lisis de datos y probabilidades
Matem'tica: Razonamiento algebraico
Pensamiento cr'tico: An'lisis de datos y gr'ficos para matem'ticas, ciencias y estudios sociales
Pensamiento cr'tico: Para lectura, ciencias y estudios sociales