GED Academy™ Online Prep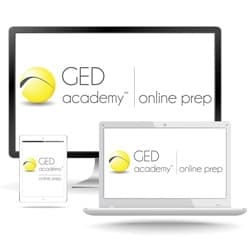 In English with Spanish Practice Tests: Unlimited access enrollment
Our Price:
List Price: $39.00
Our Price:

$35.10
Save 10%!
GED Academy is like having your own personal tutor who knows exactly what you need to learn to pass the GED test. You start with one of the 24 built-in practice tests which creates your own personal learning plan. Then you move step-by-step through simple and easy to understand lessons until you are ready to pass. Here's how one of our students described her experience with GED Academy.

"It can be a little overwhelming knowing there's so much to cover, but the way you guys track and show my progress is my favorite part! Also knowing it's not just a computer talking back but you guys in the background definitely gives me so much more motivation as opposed to just studying on my own with a book. I think what I like best though is learning from the online characters who always explain things so I can understand them. Thank you so much."

GED Academy is 100% aligned to the GED Testing Service objectives so you can be absolutely sure you will pass. Study on a desktop, tablet or mobile device.