OP Test Bundle for Students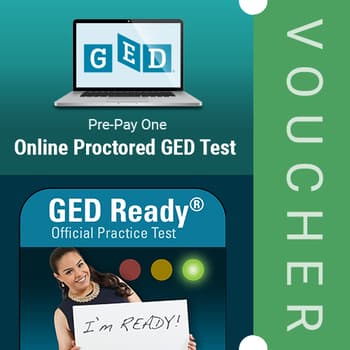 Available in English and Spanish.
Save money by purchasing your GED Ready Practice test and Online Proctored (OP) test with this discounted bundle. A GED Ready green score is required to schedule the OP test. GED Ready is the only practice test designed with same-day scoring, so you get timely feedback if you are likely to pass the real test.
If you're not ready for the real test, you will receive specific instructions on what to study next.
The test questions look exactly like the real test, so you will be prepared on test day.
To take the Online Proctored GED test from home you will need a private workspace and computer with reliable internet and webcam.
Run a system test to be sure your computer meets requirements
.
With this bundle you get both tests - The Official GED Ready Practice Test and the Official Online Proctored GED Test - at a discounted price. You will receive an email that contains two vouchers and instructions for redemption. The voucher email will arrive in your inbox within 1 business day. You choose the subject area from within your GED account on GED.com and enter the 100% off voucher code at checkout. If you don't finish the practice test the first time you use it, it will expire in 120 days. Note: the OP test voucher is for the Online Proctored GED test and cannot be used for a test in a test center. Vouchers expire 12 months from purchase date.