My Keyboarding Course Access Code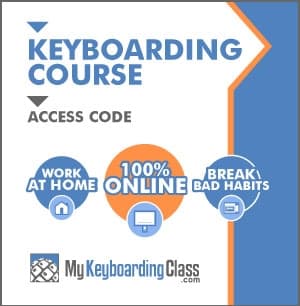 Available in English only.

The My Keyboarding Course Access Code allows users to access an online course at MyKeyboardingClass.com. This is the best way to increase your productivity on the computer in the workplace or at school. It is also an excellent tool to improve your time management skills while taking online exams. This online course will enable you to improve your keyboarding skills from any Internet-connected computer.


Allows you to work at your own pace

Course is completely online

Each access code is valid for a 12 week online course

Free technical support provided by My Keyboarding Class Inc.

Program is customized to your skill level through an initial aptitude test

Unique product features break "hunting and pecking" and other bad habits

Immediate feedback and excellent progress tracking

Course is tried and proven by over 1.5 million K-12 and college student
In this digital age, MyKeyboardingClass.com will help to ensure that you don't get left behind because of a lack of computer and keyboarding skills. There are 126 timed drills that are automatically scored and recorded as you meet the standards of the program. Keyboarding is a new life skill!


Extra Value
: Your online access code will also allow you to install a home version of the program after the course is completed. This allows you to continue practicing and improving your skills AFTER your online class has finished.